Affordable SMS Verification Service
Keep your business safe and verify the identity of your customers by sending text messages to their mobiles. Find out how to easily automate the user verification with SMS.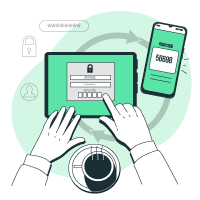 Make the most of your SMS Verification
Prevent fraud and spam by verifying a real person registration through leveraging short text messages. Deewan SMS verification service stops accounts from being created by bots and can reduce fraud and associated costs
Why SMS Verification?
Almost all businesses are using SMS verification services to verify their customers' identities.
Authenticate RegistrationSending
unique PIN codes for users using your system, applications and social networks for the first time.
Authenticate RegistrationSending
Confirming transactions by asking users for authentication like a one-time password OTP to prevent suspicious activities.
User Reactivation
Users who didn't use your application for a long time, they'll need to reactivate their accounts to make sure that they are the same person
Password Reset
It helps you make sure that any customer using his account from a different device is the same person, not another one trying to hack it.
Our SMS Verification Features
By starting using our platform we guarantee you have the following features:
OTP authentication to enhance security and full verification of users' identity.
Deewan's system is fully automated, so you don't have to worry about delays.
Customize messages by specifying between 4 to 10 digits for the verification code.
Not only do we have the highest quality service, but we also have an affordable price.
Check the status of the messages sent and see the recipient's response instantly.
Integrate our platform with your own developed tools. Our API suits everything you need.
Use our reliable platform that enables smooth, secure communication between businesses and their customers